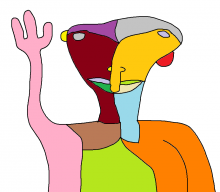 Last Activity:

Dec 12, 2017 at 3:13 AM
Joined:

Dec 6, 2015
Messages:

358
Likes Received:

1,392
Trophy Points:
Gender:

Female

Birthday:

July 15

Location:

Occupation:

Becoming a Mop
Progtrash
|Mod|❤αѕρєη❤, Female, from Wherever Haken is
Staff Member Moderator
Why is band merch so damn expensive? Nov 25, 2017
Progtrash was last seen:

Dec 12, 2017 at 3:13 AM
Loading...

Loading...

About

Gender:

Female

Birthday:

July 15

Location:

Occupation:

Becoming a Mop

Minecraft:

Progtrash

Welcome fellow traveler! :)




『』

『』

『』

『』

『』

『』

『』

I am known as Progtrash! If you're here right now, you must want to know some facts about me and/or my hobbies. Well, good news for you, here are things you are looking for! Enjoy~ ⚏⚏⚏⚏⚏

➤About Me-

I am 14 years old and a high school freshman. I am a lesbian and dating this beautiful, talented, and amazing girl Carmen (gobble/SpoopyAspen) and I love her to death❤! I LOVE Progressive Rock music and my favorite bands consist of Haken, The Neal Morse Band, Dream Theater, and LOTS more! I would definitely call myself a wannabe drummer (100%), I love to draw and sculpt things with clay and I plan to go to college to study animation. I multi-task a LOT and that causes unnecessary stress but that's ok. I like playing Spooky's House Of Jumpscares, Sonic Games (Mania), Garry's Mod, Peggle, (sometimes) Minecraft, Dr. Robotnik's MBM, LIS, and much more!

⚏⚏⚏⚏⚏

➤Promotions-

[Helper]

~ 2/15/17

[Mod]

10/13/17

⚏⚏⚏⚏⚏

➤Likes-

HAKEN (or anything Prog), drawing, Minecraft, the LGBTQ+ community, YouTube, Furries/Fursuits, concerts, my friends, making people laugh/happy, trucks (old Jeeps, Nissan Xterras, etc), Filthy Frank, iDubbbz, MaxMoeFoe, Joji/PinkGuy's music, collecting things, relaxing, sleeping (in), summer vacation, cats and a lot more animals, dark, corny, dad humor/jokes, Krazy Glue, my blue Deathless ears, taking artsy pictures (views, animals, perspective, etc), being with friends, wearing my prized Neal Morse sweater no matter how hot it is (around my waist), arts and crafts, taking apart things (finding what's inside), electronics, and daydreaming.

⚏⚏⚏⚏⚏

➤Dislikes-

Annoying people/assholes, people telling me to "change"

(you know who you are)

,

losing an argument, hypocrites, SCHOOL, make-up DIYs, getting sick, FAKE PEOPLE, people stealing MY spotlight (you know who you are), getting ditched/ignored, fake fans, too much attention, "Cash me ousside how bout dat", expensive fursuits, homework, guilt traps, fat jokes (about me or my friends), try-hards

,

the saying "gg", winter,

when someone thinks I have a crush on another person because I'm nice to them

,

feminists/feminism

, when my cats run away from me, being used, when my mom runs into a friend at the store, yelling, popular kids, cute clothes that don't fit me, amazing and nice staff members resigning (cough DEST, DEMON, SHADOW, KIMAY, ANDY cough), old people I have never seen before saying how they remember me when I was "THIIS BIG", and losing friends or prized items.

⚏⚏⚏⚏⚏




➤Dreams/hopes-

Becoming a professional cartoonist/animator, taking drum lessons, being able to trust certain people, not being shy around adults (or in general), doing a duet with Ross Jennings or Neal Morse and them always remembering me, going on tour with Haken (hah lol), becoming rich and famous, losing weight, and going to any furry convention with a special someone owo (mainly Anthrocon!)

⚏⚏⚏⚏⚏

➤Nightmares-

Groups/Bands splitting, ruining amazing clothing, ripping up the wrong papers (story, art, etc), being let down/letting people down, going to jail, being ditched, embarrassing myself in front of my idol(s) or my idol(s) ending up being an asshole, going to Frost Valley again, losing my best friends (ya'll know who you are)

⚏⚏⚏⚏⚏

➤Extra Info-

I got detention once for sending an email to my friend Joon that said "I have to pour water in her book, it bought cat food" but I didn't go, my mom thinks I'm gay because of all the LGBT things I talk about (good guess mom), and I am pretty unique when it comes to my imagination and my thoughts, I always get in trouble at school for wearing my favorite sweater because 'it's not uniform', and I almost NEVER open up to people, I love to argue with people that think they're better than me (mostly real life people) and I always win.

⚏⚏⚏⚏⚏




➤Future Events/Concerts-

Neal Morse LIVE 2/23/18

⚏⚏⚏⚏⚏




I will gladly accept any

appropriate

art of these characters, just PM me for a reference. You're more than welcome to skip this part, these are just OCs.




➤Deathless

➤Aquarius ➤Jessie/Jessica


➤Sam/Samantha




⚏⚏⚏⚏⚏




♫Favorite Songs/Albums♫-

Haken

-

Visions, Aquarius, Affinity, The Mountain, Crystallised


Neal Morse

-

The Similitude of a Dream, Testimony (2), Grand Experiment, Songs from November, Momentum, Starless, Question Mark, One, Sola Scriptura




Transatlantic

-

Kaleidoscope, Bridge Across Forever, All of the Above, The Whirlwind,




Spock's Beard

-

The Light, V, Snow




Flying Colors

-

[First Album], Second Nature




Yes

-

Fragile




MeShuggah

-

Clockworks, Demiurge, I Am Colossus




Shattered Fortress-

12 Steps Full Suite

Dream Theater-

Metropolis Pt 2, The Mirror, Train Of Thought, Six Degrees Of Inner T

urbulence

Novena-

Secondary Genesis


Highly recommend all of these songs if you're into Prog!

⚏⚏⚏⚏⚏




Art Stuff-




DO NOT CLAIM MY ART AS YOUR OWN. I WILL *NOT* TOLERATE STEALING.

http://imgur.com/a/d3Xvg <- Funny and Best Drawings of Mine ➤Commissions - ✘[CLOSED]✘

(For now!)


Best Art from Other People:
https://imgur.com/a/RgfVh

⚏⚏⚏⚏⚏

➤Favorite Quotes! [Contains Mild Profanity and Inside Jokes]-

◈"u r c ng my p p"/ "Life is like a burrito, you just gotta take steps."/ "How can I get on your nerves if they're in your body??"/ "We're not thots, we're American thots! Happy 4th!"/ "Half of 36 is 12"/ "If the nose is black, that means it's gay!"/ "Oh my God we almost hit the road!"/ "Do they have rolls of bread?"/ "I'm like Stevie with legs"/ "P'EA"/ "You can make a whole shrek out of that!"/ "black woman are loud but white woman are quiet both good for meeeee"/ "here in america i drink beer and smoke the marry wayne uh"/ "dud shut the up fuck"/ "my minecraft username is 4"/ "If cats are Egyptian and pyramids are triangle that means I'm a fucking idiot"/ "WHY DID THE MUSIC STOP??? TECHNICIAN!" -Dan/PinkSeason 2k17 ◈"I'm 5 Hours Online in the TeamSpeak"/ "im jsoooo a noob in this game"/ "bitck ass hole"/ "STAMY NOW WTF"/ "i forgot to breath a month ago"/ "it's bants, i think the boyz fancy u :o"/ "make em sucide"/ "i today good"/ "Fellas, is it gay to take out the trash? Because men are trash and you're taking them out???" -[will remain anonymous] 2k17
◈"Trying to be normal should be equivalent to sinning. Fitting into society is a game not worth winning." -Brandon Rodgers 2k13
◈"You are not a man, you're a penis!" Billy/billycariello 2k17
◈"You lost to ME, you really do suck!"/ "You are what you eat, so that's why I'm a giant ass"/ "I need glasses to see through your bullshit"/ "It makes... Heat"/ "Look, I love ya but can you shut the fuck up"/ "If the nose is gay, it's black??"/ "eh"/ "UHH OH MY GOD THERE'S LAVA EUGHEUHGH (hyperventilating)"/ "I love progressive rock more than myself what the fuck???" / "Just because I'm gay doesn't mean I'm happy!"/ "Good drinking game: take a shot everytime Carmen 'meep' or 'mip'"

-Myself 2k17

◈"Always be yourself, unless you're a crappy person" Nicholas Megalis [Year Unknown]
◈"

WHAT'S THIS ASSHOLES ADRESS?

I'M KICKING HER OUT THE WINDOW"/ "you can do anything from a simple owo"/ "BOREDOM IS AN ASS - EWW BOREDOM YOU SUCKKK"/ "c r e a t i v e n e s s"/ "I WILL STAB HER WITH A SQUIRREL"/ "GOSHGOLLYGEE"/ "WHAST"/ "but imagine all the people abusing report"/ "#sKYPEyOuPoOo"/ "that sounds like a gang think"/ "i think im a mop???"/ "I think I have a serious case of mopitis." -Carmen/SpoopyAspen 2k17

◈"That was a good password"/ "If your head comes out first does that mean it's older than your body"/ "Crystal do you drink healthy food?"/"I did a bad!!"/ "Taketh the pole!"/ "Shut the open?"/ "REDSTONE CLOCK?? NOT ON MY CHRISTIAN MINECRAFT SERVER"

-Matt/Cheezi 2k17

◈ "Your time comes when the shine the strongest. Anger and regret will only darken your path. The path of what you desire."/ "Love is a trick of expectation. An expectation of joy in your life."-Olle/OlleSwedish 2k17
◈"when you can't accept the truth so you deny it and write a sob story instead"-ItsJerry 2k17
◈"#DoitforDaniel!!!"/ "Damn it smells like fake people!"/ "Oh my FUCKING GOD the illuminati is on EVERYTHING for fucks sake." -Real Life Friends 2k17
◈"promote willy to helper" -Smurfskii 2k17
◈"does prog gay?" -Expedect 2k17 ============================= thank you willy for saying Noodles is an egg
---------------------------------------------------------------
"Scary, to say the least.." -Ross Jennings 2k17 (Commenting on my costume of him!)

===========================

I also do NOT have a crush on MC_Scout, Olle, or anyone in Haken so stop shipping me with them. Also if you are a high position of power, or just think you're a popular person with no flaws, please don't be bias and show favoritism right in front of me. You're not cool and you just look like a bias fool.


=========================== Add me on Steam: golden_freddy_lover or Deathless

===========================

✫Thanks for Reading!✫

♥ 7/24/17♥

5 MONTHS!! ♥ ❤
I will always be there for you when you need a shoulder to cry on. I will never stop loving you even if you were across the world. You mean everything to me and I hope I make you happy like you make me happy. I'm here for you :)
❤

​

♥w♥ am I creative yet?


the wage gap doesn't exist and feminism is cancer :)

Some awesome videos I enjoy wayyyyy to much

<- if you spot me in this, comment "Haken" on my profile






ஐImprove my realism drawings a bit
ஐLoose weight/Be active again
ஐTry to stay positive in troubling times
ஐTreat my friends, family, and partner right and never let them down
ஐContinue to be loyal to my friends
ஐTry to keep being the person I am now and only change for the better and for myself
ஐTry to break out of my shell and stop being shy
ஐGo to more concerts this year
ஐNot care or listen to the people who try to bring me down
ஐTo keep my motivation to continue to be the Mod I am

Interact

Content:

Discord:

Prog #5191

Instagram:

deathless.jpg

Skype:

ask

Twitter:

DeathlessWolf

Snapchat:

PM me!